Enterprise
Reaching New Entrepreneurial Heights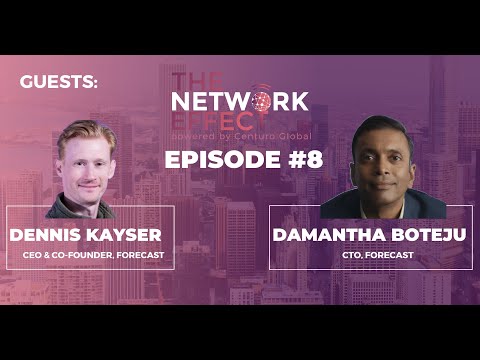 About the Episode
In this week's episode of The Network Effect, we have the privilege of hearing from the Co-Founder / CEO, Dennis Kayser, and CTO Damantha Boteju of Forecast, a leading AI-native platform for project and resource management.
In the interview, we hear about their plans of scaling their business both locally and internationally, and how they've risen to the challenges around fundraising and more.
The Centuro team then go on to begin the infamous great country debate. This week, they debate the benefits of scaling to different countries. Tune in to hear about the benefits of expanding to either Portugal, Spain, and Greece.
We hope you enjoy this episode!
You can also listen to a podcast version of this episode
HERE
.
Speakers
Damantha Boteju
Chief Technology Officer, Forecast
Damantha Boteju leads all of the engineering and data science teams at Forecast. With over 20 years of software industry experience, Damantha's deep experience comes from both large-scale organisations (SAS Institute, KMD) as well as successful startups, and a strong pedigree of building scalable enterprise-grade applications. Damantha has a degree in Computer Science from McMaster University.
Dennis Kayser
Co-Founder and CEO, Forecast
Dennis Kayser leads the organization at Forecast. With more than 15 years of experience within software engineering, management consulting, and technology (Magento, IBM, etc.), Dennis has helped global brands worldwide deploy and leverage new technologies. Dennis has an MSc. in Computer Science & Business from the University of Copenhagen and INSEAD in Paris.
Episode Highlights